Swimming has been a Deaflympic sport since its inception in 1924. Historically, American deaf swimmers have been among the strongest contenders in the world's pools. The first American swimmer appeared at the 1939 Deaflympics and nabbed silver. Since then, our athletes have brought home countless medals and broke numerous national and world records both among peers and in the greater aquatic community.
USA Deaf Swimming (USADS) regulates national and international aquatic competitions for all deaf and hard of hearing members. The USADS coordinates swim competitions for deaf and hard of hearing swimmers and aims to further advance the level of skill by way of clinics and specialized coaching and training.
News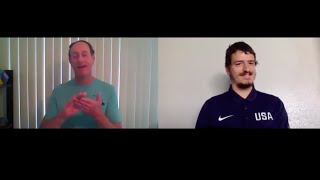 17 Jun 2020
Today's interview is with Deaflympian Reed Gershwind, a dual sport athlete of the US Deaf Water Polo and US Deaf Swim Teams. Having won an astonishing 30 medals, Gershwind is the most decorated medal winner in USA Deaf Sports Federation history. Enjoy watching this legend's story!
05 Dec 2011
Upbeat O'Connor swimmer achieves world success.
31 Mar 2011
A formidable opponent in the pool, Reed Gershwind swam his way up the ranks of high school, NCAA and Deaflympics competition. Very few could keep up with him event for event, stroke for stroke in the water as he glided his way to a record-setting 30 Deaflympic medals.