Tennis is a global sport played at all ages and by all levels of society. American tennis players have been representing the US at the Deaflympics since 1953. USA's national teams have won more than 50 medals in various international deaf championships.
Emily Hangstefer of Signal Mountain, TN was recently awarded by the USADSF as the "Sportswoman of the Year," her second consecutive award. She won the Dresse/Maere Cups held on July 14-19 in Chattanooga, TN. She also nabbed silver in doubles.
The USA Deaf Tennis committee is responsible for the selection of national teams to represent the USADSF in international competition. The committee's mission is to increase public awareness of deaf tennis to the greater hard of hearing community, provide players with opportunities to participate in international Deaf tennis competitions, and promote sportsmanship and respect for each other's culture.
News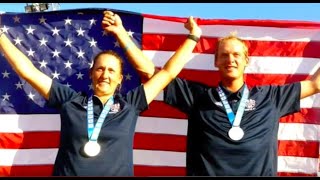 16 Sep 2020
Meet this sibling duo who partnered up in mixed doubles to bring home a silver medal during 2017 Summer Deaflympicsl!
03 Aug 2013
Holding serves and trading points and games back and forth, the Americans and the Germans battled for gold in the mixed doubles final Saturday at Dema Tennis Center.
03 Aug 2013
As Chiu-Mei Ho's return volley sailed out of bounds on the match point Thursday in the women's doubles championship match, jubilant Americans Laura Chapman and Emily Hangstefer rushed toward each other and embraced on the red clay court.